Beetroot salad is my personal favorite on the Christmas smörgåsbord. It might be an irrational choice—here are all these delicacies, and I go for a weird pickle side dish?
I don't know if it is the stunning ruby color, the sweet yet slightly acidic taste, or the varied texture, but I find it irresistible. The best way to enjoy it is on a piece of dark bread with a few meatballs—meaty or vegetarian.
Beetroot salad munching in Sweden throughout history
Beetroots came to Denmark in the 15th century but don't appear in Sweden until the 17th century, according to professor Jan-Öjvind Swahn. Back then, people ate pickled beets flavored with horseradish. The oldest beetroot recipe I've found in Swedish is from Then frantzöske-kocken och pasteybakaren from 1664, where Romble Salé recommends slicing the beetroot and serving it together with pickled onion, vinegar, and butter.
For Röbettor til Sallade from her 1755 cookbook, Cajsa Warg recommends cutting boiled beetroots into slices and layering them with grated raw beetroot (for the color), cumin, and horseradish. Vinegar preserves the salad so it is safe to eat for a long time.
In 1847, Gustafwa Björklund's recipe for Russian salad used pickled beetroot with pickled broad beans, carrots, hard-boiled egg whites, celery, and the now-forgotten plant sockerrot (crummock), served with a vinegarette.
Anna-Maria Zetterstrand's 1863 cookbook has a recipe for "beetroots for salad", which seems to be a simple pickle recipe that can get extra flavor from the addition of horseradish. She considers the salad too simple for a steak but is good for different types of chitterlings. Zetterstrand's recipe would be close to how beetroots were served in the 17th century.
In Kok-konsten från 1896, Charles Emil Hagdahl features "Salad på ryskt sätt. Salade russe" in his 1896 cookbook. The salad contains potato, beetroot, celeriac, pickled cucumbers, apple, capers, and sardels, and is flavored with a mustard vinegarette.
The idea of Russian salads in Swedish cookbooks seems to be mostly about finely chopping plenty of ingredients. In later cookbooks such as Stora Kokboken from 1946, this salad is mixed with mayonnaise instead. Does the Swedish beetroot salad come from Russian influences? Maybe. Beetroots seem to carry a Russian association in Sweden—just look at biff à la Lindström.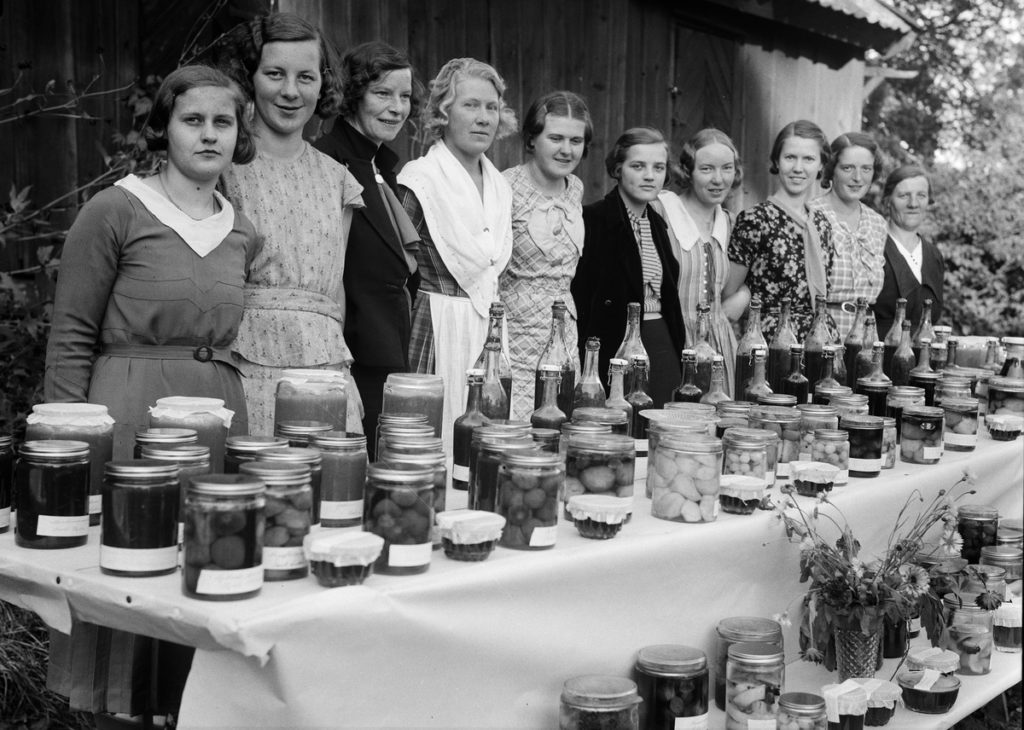 How the chefs make beetroot salad
Well, do the chefs make beetroot salad at all? That's what I started to ask myself after flicking through my cookbooks. Few of my cookbooks from the first half of the 20th century have any recipes, with the exception of the 1934 edition of Prinsessornas kokbok. Here, the beetroot salad is made from fresh beetroots that are boiled, sliced and served with mustard vinegarette. In the rest of the books, the chopped beetroot doesn't turn up other than in herring salads. Is the humble beetroot salad too simple to deserve a recipe in the cookbooks?
Somewhat later, Magnus Nilsson uses only beetroot and apple in his salad and uses half mayonnaise, half cream to dress it.
How to make Swedish beetroot salad
Beetroot salad is often served as a side dish, especially on smörgåsbord. These are the proportions I'd use when having it on a smörgåsbord for six people, but feel to adapt it however you like based on jar sizes, etc:
300 gr (10,5 oz) pickled beetroot
0,5 dl (0,2 cups) pickled cucumber
1 apple
0,5 onion, preferably red, finely chopped
150 ml (0,6 cups) cream or crème fraîche
1-3 tbsp brine from the pickled beetroot
salt, pepper, parsley
Chop the beetroots, cucumber, apple, and onion finely and place them in a bowl.
Whip the cream until it is thick. Add the cream to the bowl of vegetables together with a little bit of the beetroot brine.
Stir with a spoon until the mix is even.
Add salt and pepper to taste. Top it off with parsley.
Suggestions
The recipe above is based on how my family has made beetroot salad since I was little. The finished result will depend on the sizes of your raw materials, so expect to adjust the flavors a bit so it will be to your liking.
If you have leftover beetroot salad that still is fresh, stir it into minced beef together with an egg to make a simple biff à la Lindström.